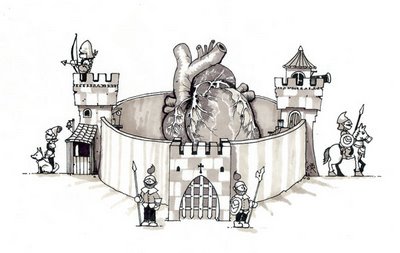 Proverbs 4:23 says: Above all else, guard your heart, for everything you do flows from it.
In the heart we find life. This is where the life blood flows from. Just as the heart is needed to sustain life to our bodies, the heart will also sustain spiritual life, not only to ourselves, but to those that we are around. For this reason, we are to guard our hearts. We are to keep from those things that would take our heart away from the father. In this new age world we live in, there are so many distractions. There is so much that will keep us from our relationship with the father. This is what we have to guard against. We cannot get so busy in our daily lives, that we forget the word.
Hebrews 8:10 - For this is the covenant that I will make with the house of Israel after those days, saith the Lord; I will put my laws into their mind, and write them in their hearts: and I will be to them a God, and they shall be my people.
When we belong to YHWH, when we are his people, his word will be on our minds, and written in our hearts. When the word is written in our hearts, then life will flow forth from us. We will have a word of encouragement to share, we will have the word to share.
Matthew 15:18 - But the things that come out of a persons mouth come from the heart, and these defile them.
We have to guard our hearts against the things that are not of God, so that the words that come forth will be words of life and they will not bring death to us or those around us. The words we speak come from the heart, so guard your heart so that life will always come forth.
Shalom and Blessings,
Richard Quinn