The Wilderness Experience
by David Jones | May 16, 2009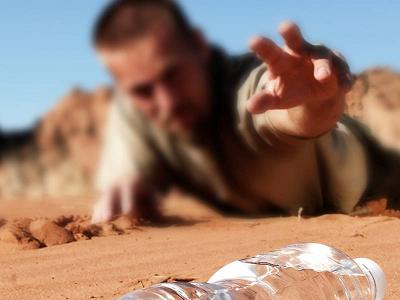 The Wilderness Experience
How many of us have gone through what we would call a "wilderness experience"? There are times in our life that we feel we are going through a very dry desert. We yearn for the refreshment of a flowing spring of pure water. The only way to describe what we feel would be to say we are feeling "dry" or "alone." We may even feel the heavens are silent to our cries of desperation. These are very difficult times in our life when we need to stand on the very promises in the scripture. One thing is certain we will never be forsaken by our Father. Even in these times of hardship, we need to understand that our Father loves us and He has promised to lead us through these hard times.
If we allow ourselves to go through this experience we will come to the promise He is leading us to. What is hard to say is that even in the times when we don't "feel" like our Father is leading us, He Is Leading Us.
Psalms 37:23-24 Adonai directs a person's steps, and he delights in his way. (24) He may stumble, but he won't fall headlong, for Adonai holds him by the hand.
Going through the wilderness is exactly that, going through it. This is a process that we may be able to go through quickly, or it may take us time. When we are going through these times we must approach our lives, decisions and choices in a manner that glorifies the Father in all things. This is something we all know but at times need reminded of it. The hardest thing for a man to control is his mouth. We need to speak the word and promises of the Father in these times. The words you speak have much more impact on your own life than one would think.
Psalms 19:14 May the words of my mouth and the thoughts of my heart be acceptable in your presence, Adonai, my Rock and Redeemer.
King David understood the impact of the words we speak, even while in the wilderness. He knew that there was a connection between the things we let come out of our mouth, and our heart. Messiah Yeshua reiterated this when He spoke.
Luke 6:45 The good person produces good things from the store of good in his heart, while the evil person produces evil things from the store of evil in his heart. For his mouth speaks what overflows from his heart.
Our Father does not want us to suffer, to be hurt, to know hunger, or pain. He will allow us to go through difficult times though. In the end He will bring us through and we have hope.
Romans 8:28-29 Furthermore, we know that God causes everything to work together for the good of those who love God and are called in accordance with his purpose; (29) because those whom he knew in advance, he also determined in advance would be conformed to the pattern of his Son, so that he might be the firstborn among many brothers;
We were never promised a life free of trials and tribulations. What is given to us though is the ability to look at our heavenly Father, and ourselves. We come to the Father to submit ourselves to Him wholly and without reservation. When we are going through tough times, it is a good time to look at ourselves to see if we are growing up in the knowledge of our Messiah, or are we still an infant whining because we are uncomfortable and want something that may not benefit us.
Deuteronomy 8:1-5 "Be careful to obey all the commands I am giving you today. Then you will live and multiply, and you will enter and occupy the land the LORD swore to give your ancestors. (2) Remember how the LORD your God led you through the wilderness for these forty years,
· humbling you and
· testing you
· to prove your character,
· and to find out whether or not you would obey His commands.
· (3) Yes, He humbled you by letting you go hungry
· and then feeding you with manna, a food previously unknown to you and your ancestors.
· He did it to teach you that people do not live by bread alone; rather, we live by every word that comes from the mouth of the LORD.
(4) For all these forty years your clothes didn't wear out, and your feet didn't blister or swell. (5) Think about it: Just as a parent disciplines a child, the LORD your God disciplines you for your own good.
Matthew 4:4 But he (Yeshua- Jesus) answered, "The Tanakh (the Scriptures) says, 'Man does not live on bread alone, but on every word that comes from the mouth of Adonai' "
In Hebrew there is a connection between the wilderness experience and what we allow to come out our mouths. This, as we have seen is really the overflow of what is in our hearts. We can't allow something to come out of our mouth and then say "I didn't mean it" or" I was just kidding". If we said it, we meant it. I believe we may not have intended to hurt someone, but what we say often times reveals our character, even to us.
Proverbs 26:18-19 Like a madman shooting deadly arrows and firebrands (19) is one who deceives another, then says, "It was just a joke."
Matthew 5:37 Just let your 'Yes' be a simple 'Yes,' and your 'No' a simple 'No'; anything more than this has its origin in evil.
Matthew 12:36-37 Moreover, I tell you this: on the Day of Judgment people will have to give account for every careless word they have spoken; (37) for by your own words you will be acquitted, and by your own words you will be condemned."
The Hebrew word for being in the wilderness is בְּמִדְבַּר – (beh-meed-bar). This is one of those times where we see something in the original language that we would otherwise miss. The Hebrew for "in the things we say" is במדבר (beh-meh-dah-bear). If you look at it, it is the same word! There is a definite connection to being in the wilderness and being very mindful of the things we speak while we are there!
To make it a little more interesting, let's look a little further. In our weekly studies we will be starting a new book this Tuesday (May 16, 2009). We will be reading and studying the book of Numbers. The Hebrew name for the book of numbers is - בְּמִדְבַּר – (beh-meed-bar).
We call it numbers because it starts with a census. However, by calling it Numbers, we lose some of the meaning of the book as a whole. The Hebrew name for the book is literally "In the Wilderness". By calling it the proper name, it causes us to think of what the emphasis for the work would be. I see two things, one, while in the wilderness the Father still leads. The other would be to very mindful of what we say while we are on that journey. Since the things we say originate from the heart, which would be our attitudes, it influences the way we say what we say.
Let's look a little further into this point. What are some things we see in this book? A lot of grumbling and complaining, the Father provided food, but we wanted filet mignon. A lot of rebellion and false accusations, Korah led a revolt against Moses because he was offended that he wasn't chosen to be leader when he was already a priest from the tribe of Levi, from the house of Kohath, who were the chosen ones to carry the Holy pieces of furniture from within the Tabernacle. Korah had a position of responsibility, he wanted something else. Miriam spoke out against Moses because she did not approve of his wife. She was struck with leprosy. The people grumbled and complained against where the Father had them in their walk with Him, and He sent fiery serpents against them. The twelve were dispatched to check out the land and came back divided. They were no longer twelve, but ten against two. Two held to the promise that if Yahweh led me and He says I will fulfill my calling, I WILL DO IT! Ten got lost in their life circumstances and fell prey to looking at the world and its' wisdom. They lost sight of the promise because they were looking at their life by the standards of the world. All of these are good examples of how to watch our tongue.
There is however one more point that needs to be made. We also need to be careful of how we respond to others when they are saying and doing things that they shouldn't. Moses was mad at the people and called them a bunch of rebels when he was overtaken by his anger and struck the Rock when he was only supposed to speak to it. The result of this was Moses not being able to enter the land that was promised to them.
Sometimes we need to walk our lives out in faith. Feelings and emotions are good, but they were not given to us to lead our lives by. We need to walk in faith and on the promises all contained in the full counsel of the word of the LORD. Our Father will never lead us astray from His promise or His word. He gave us the Holy Spirit (Ruach HaKodesh) to lead us along the way. Let's follow Him in this life journey, and be thankful every day for all the blessings we have received. We can all enter His gates with thanksgiving and His courts with praise. Once there, He will invite us to the banquet prepared for us. You are cordially invited.
Until next time, B'shem Yeshua HaMoshiach (in the name of Jesus the Messiah)
שָׁלוֹם Shalom,
David